Stunning foil-stamped cards to help you connect meaningfully with family and friends!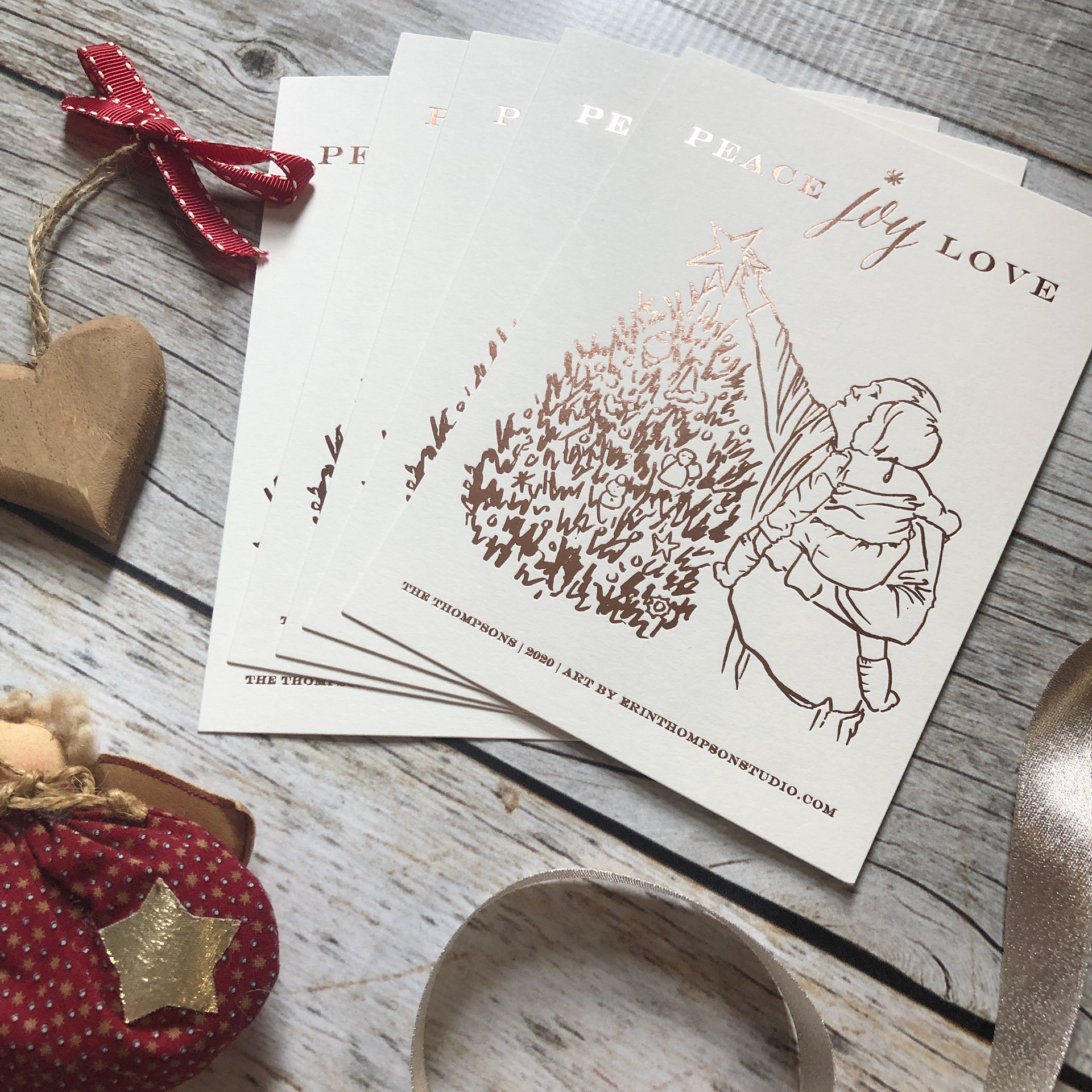 › Checks 2 items off your holiday to-do list:
meaningful gift for loved one AND holiday cards
› Your card will stand out
from the sea of others, and maybe even get framed by Grandma
› Safer and less hassle than a photo shoot!
It's contact-free — just send me a photo you've taken yourself of an everyday special moment in your life! And the artwork will be more meaningful when not a posed photograph.
›
Hand-drawn artwork will bring a personal touch
to your cards — especially important when we can't, well, personally touch each other!
1)
Email me
your photo/photos,* and tell me that you are interested in my
Fab Foil Holiday Art Package
.
2) We'll finalize details for your custom artwork over email or by phone.
3) I'll make an original piece of art in pen alone, or pen and watercolor, referencing the photo(s) you provided.
4) You can give the completed original artwork as a gift, or keep it as a gift to self!
5) I will provide you with a digital file of the black/white (pen-only) line artwork that you can upload at
Minted.com
to turn into a stylish foil-stamped card, sure to wow and delight! Gold, silver, and rose gold foil options available in many designs at
Minted.com
.
*
My style works best if your photo captures a special moment between its subjects, where the subject(s) are engaged with each other or in an activity and the photo is shot from the side or profile. While there are exceptions, I don't recommend a formal (or even informal) camera-facing portrait where subjects are smiling at the camera. You must hold the copyright to the image you supply (or have permission from the copyright holder to use the image for this purpose).
Contact me
for a personal price quote, as cost can vary depending on complexity of the subject matter (for example, it is more time-consuming to depict subjects directly facing the camera), desired size of the finished original artwork, number of subjects, medium used, timeline for completion, etc. Just to give you a ballpark, below is general pricing for some standard options, where subjects are not directly facing the camera.
If I previously made pen or pen/watercolor art for you
and have a scan of the pen-only artwork, you would only pay the add-on fee ($100, or $80 if finalized by October 15) to receive a digital file of the black/white line art and the license to use it for holiday card purposes.

To help manage the holiday rush, I will give a
$20 discount for "Fab Foil Holiday Art Package" orders
finalized by October 15.
Cross something off your list early this year!